I always appreciate feedback and reviews of my work both formal and informal. Want to share your thoughts? Contact me!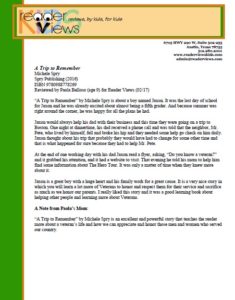 The following reviews are from Amazon.com:
A Trip to Remember
We had just heard presentations at a symposium at Chino airport and the"Planes of Fame" home. At this presentation were members of a Corsair FU4 squadron. It was their story as told by the author of this book. When you hear the story of their courage and, later, their reunion it brings out the humanity in us. Because I was at this symposium I made a promise to get the book. It is meant to encourage us to remember but also to introduce children to this phase of history. I love the book and am sharing it with others who are not aware of the sacrifices of our older Americans." – George J. Pfister
—————————————————————————————————————————————————————————————————–
"Based on the WWII experience of a local man in my hometown. I got to meet him and see him reunited with one of the Corsairs he actually flew in the war, it was awesome. I'm glad to see the book in print, very inspiring." – Helen Highwater
Tom T's Hat Rack
"Tom T's Hat Rack is a sweet book about America at it's best. It's an ice cream sundae of a book, rich and satisfying. Shelby Summer's is wonderful young lady who is always ready with a helping hand and a smile. When all the other children go away for the summer, she stays home with her neighbor and embarks on a project to "pay it forward" in her neighborhood. When her caretaker recovers from a life threatening disease, he and Shelby produce hat racks for the local hospital to share the collection of hats he will not longer need. Shelby then adds a scarf rack for women. It's a great story to read together with your child and discuss what ways he or she could help the community. It's a nice story with a happy ending and ideas on projects so that anyone else can learn how to 'pay it forward.'" – Carole P. Roman
——————————————————————————————————————————————————————————————————
"TOM T'S HAT RACK by Michelle Spry is a delightful Children's Book. A "pay it forward" story, "This simple act of kindness towards others is so simple to do and encourage others to do." A powerful story about helping others,facing challenges and giving back to your community. Beautifully written with beautiful illustrations,deep thought,and engaging characters. A simple act of kindness is what we all want and need from life,along with love. So do a simple act of kindness,then "pay it forward" and the pass the giving along to others. A powerful and compelling story. Fast paced and an excellent message for young and old readers alike. A must for children of all ages. Received for an honest review from the author." – My Book Addiction and More
——————————————————————————————————————————————————————————————————
"Very thoughtful and thought-provoking.
This book is a beautiful reminder of what can get accomplished when one person sets their mind to make a difference. In the story Mr. T(ucker) had cancer and went through chemotherapy because of it. As a result, he lost his hair and that got him to thinking about others like him, with no hair and no hat to cover their heads. Side note: The subject of cancer is brought up very lightly in this book, whereas no child will be scared or frightened off from reading this.
Consequently, this inspires Mr. T to make hat racks to donate to the local hospital. I love how Shelby is such a giving soul and immediately wants to help Mr T with all of the carpentry and building of these hat racks. We are never too young or too old to make a positive difference. Their efforts were not huge on a grand scale but their efforts were huge to those people affected in their community. Each of us can not do everything but we all can do something!A wonderful story that has colorful pictures and a much-needed message to share, of paying-it-forward in whatever way we can.The author sent me the above books for review purposes. She will allow me to keep the book. I have no other connection to Michele Spry." – Diane Estrella
——————————————————————————————————————————————————————————————————
"This is a wonderful book that I plan to read to my sixth graders at the beginning of the year. By the time they finish their first unit they will have completed a service project of their own. This is the story of a young girl given a summer assignment to write an essay about something they did over the summer that changed their lives. Shelby spends each afternoon with Mr. and Mrs. T. They have taken care of her since she was a baby. She is excited to tell them about her summer assignment. Mr. T is excited to tell Shelby about a project he wants Shelby to help him complete. The catch is he is not going to tell her what it is until the end. Mr. T is a cancer survivor and while going through treatment he realized there were no hats for the patients who had lost their hair. He plans on building hat racks, delivering them and placing hats on them for the patients to take. Shelby helps him and then creates a project of her own to go along with his. This should be read at the beginning of each year to students of all ages. The reading may be simple but the message is for all ages." – Sandra K. Stiles
——————————————————————————————————————————————————————————————————
"…Tom T's Hat Rack by Michele Spry is a story that teaches the importance of paying it forward. Mr. T enlists Shelby's help at the beginning of the summer on a project, but he won't tell her what it is. She commits, and soon they are cutting and sanding and painting various pieces of wood. They work for several weeks, but Shelby doesn't realize until the end just how special the project really is.
This is a sweet story that shows children how they can give back to their communities. I haven't read it with my kids yet, because I was concerned there would be too much sadness. There is not. This is a positive book in which the characters all remain healthy throughout (in case you were worried about the same). It's an excellent lesson packaged in a cute, engaging story, and I will definitely be reading it with my own children soon.
If you have children and would like to teach them a bit about paying it forward, I highly recommend Tom T's Hat Rack." – Book-Loving Mom of Two
——————————————————————————————————————————————————————————————————
"Tom T's Hat Rack by Michele Spry gives the reader one of those moments. In the story, fourth grader Shelby Summers, a fairly well adjusted child, is on vacation. She spends a lot of her time at Tom and Kim Tucker's home while her parents are at work. They watch over her and the families become quite close. As an only child of two working parents, she considers Mr. and Mrs. T her pseudo grandparents. It's a clear introduction to the adage, "it takes a village to raise a child".
At first glance, it seems as if Shelby is going through the motions of an overly sappy young girl. But as the book progresses, some pertinent issues come to light. And it becomes apparent that there is an underlying depth of reliance and motivation that tightly bonds the characters. Mr. T represents absolute faith within his young protege, when he includes her in a secret project, ostensibly giving credence to Shelby's own development.
All in all, Shelby is a wonderful culmination of the dedicated adults who surround her and take their time to impart wisdom and love.
Spry portrays a simple story of diligence, perseverance, and "paying it forward", that lures the reader to subtly experience a more complex and valuable sense of poignancy. There is something jaded and, oftentimes, arrogant in the adult human psyche. It is inevitable that children grow up. But certain principles should remain intact. For the betterment of society, for the betterment of the individual." – GiGi